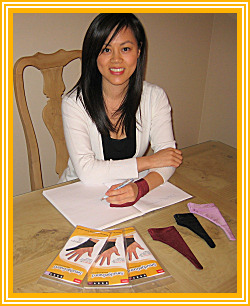 The SmudgeGuard&reg Story
Hi! My name is Jeannie and I'm a lefty and so is my young son. He started coming home from school with GRAPHITE SMUDGES on the side of his left hand and I HATED that! When I was in college, I had the exact same problem with ink smudges. So I tried to find a product out there to solve this problem but none was available.
So I decided to create my own product for my son and we called it "SmudgeGuard&reg". It has eliminated the smudging problem for us when writing and drawing and so far, our little glove has helped many fellow left-handers, creative artists, and others too!
Surprisingly, many of my customers are now Wacom tablet users. They found out SmudgeGuard&reg was useful for keeping their tablets smudge-free and for eliminating the friction when drawing on their Wacom tablets. So it's wonderful to see that SmudgeGuard&reg is helpful to Wacom users as well!
So far, the SmudgeGuard&reg glove has made its way to many customers all over the world! I just wish I could travel along with my little glove too! LOL =)
My customers range from professional artists, cartoonists, children's book authors, illustrators, traditional/digital artists to even the animators of Disney, Cartoon Network, DreamWorks, Nickelodeon and Fox Television Animation! So it's really cool to see it being used by so many TALENTED & CREATIVE people!
Again, I want to thank all my customers for the KIND support! Thank you for believing in my product as much as I do and for helping me spread the word about SmudgeGuard&reg! It's truly an honor for me, to be able to serve all of you. My son and I are DEEPLY grateful! ... Sincerely, Jeannie Lit
Also, in addition to thanking my customers, I would also like to thank my wonderful website creators, Jeff Tsui and Duane Alan Hahn. They both, on separate occasions, were generous and kind enough to help me create my website! And for that, I am truly grateful! Thank you both very much for all the kind help!!... Sincerely, Jeannie Lit
If interested in reading a bit more about my story, you can read the news article below. Thank you so much for taking the time to visit!
Courtesy of The Sentinel Newspaper of NJ, Title: Rubbed the wrong way, mother invents solution, written by Chris Gaetano (written in November 2006) at: http://ems.gmnews.com/news/2006/1206/Front_Page/035.html
My social sites are: LinkedIn, Facebook
Click Here to Buy SmudgeGuard&reg Now!