Are you a right-handed artist? Are you a Wacom or Tablet PC user? Are you left-handed?
Do you always get pesky ink or graphite smudges when you write, draw or sketch?
Wacom users: Does your hand stick to the surface when writing or drawing on the Wacom tablet? Do you want your hand to glide more smoothly?
Is your Tablet PC getting filthy smudges from sweaty hands?
Try SmudgeGuard&reg for only $14.99!
It's interchangeable for both lefties & righties!
OR try our NEW LIMITED QUANTITY colors for SmudgeGuard2 (SG2) for only $17.99!
We read all your emails asking for a 2-finger glove and here it is! SG2 provides more protection for both the pinky AND the ring finger! =)
We offer a high quality product, excellent customer service, fast delivery and a 30-Day Money Back Guarantee!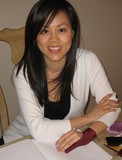 Jeannie Lit - Inventor
"I want to thank all my
customers for the kind
support! I'm very
grateful to you all!"
Below are three videos showcasing the SmudgeGuard&reg glove.

(I want to thank Reid, Marco and Jess for their kind and generous support! =])...Jeannie
Here's a video titled, "Smudge Guard for Wacom Users" - a review of the SmudgeGuard&reg glove. =) The video is made by Reid Southen of http://rahll.deviantart.com
"Here's a video I created, putting the great SmudgeGuard&reg into action, while making my own comic book as a hobby." - Marco Martins of Portugal - Designer

Benefits:

Keeps the side of your hand clean from unwanted smudges!
No more sweaty hand smudges on your Tablet PC!
Eliminates hand friction!
Your hand will glide easily across paper and tablets!
Your hand won't "stick" to the Wacom surface anymore!
Minimizes smudges off your creative work!
Great for home, school or office!

Children & Adults can use it for:

Writing
Drawing
Sketching

SG1

SG2

Design Features:

Snug
Flexible
Durable
Washable
Breathable
Lightweight
Comfortable
Portable
Easy to use
For Male or Female
For Left or Right handed use
Made of 87% Nylon and 13% Spandex

SmudgeGuard&reg is well-made with the highest quality!

Sold individually, not in pairs.
See these & other images in our SmudgeGuard&reg Picture Gallery page.
Photo Courtesy of Charles Jones
(http://onw4rd.deviantart.com)
Do you use a Wacom tablet? Does the sweat of your hand stick to the plastic cover making it difficult to move across the surface? Is the friction bothering you? If you don't want this problem, get SmudgeGuard&reg. It's the perfect "Wacom tablet glove" or "Wacom Cintiq glove". Here's some feedback from Wacom users.
SmudgeGuard&reg is a partial glove that's made of nylon and spandex, so that it fits snug and allows your hand to glide smoothly across the Wacom tablet. It instantly improves both the quality of your work and productivity so you'll spend less time re-working your lines. Wacom users will enjoy better hand movement without the resistance and friction! Here's some Wacom testimonials and pictures/YouTube videos from some SG users.
Photo Courtesy of TerriLynne Martinez
(http://tmartblog.wordpress.com/category/cintiq/)
Do you use a Tablet PC? Are you tired of getting greasy hand and palm smudges on your tablet screen? Do smudges build-up, making it difficult to see the screen clearly? Are you experiencing irritation when your hand is constantly rubbing the screen? Is the friction bothering you? If you don't have the time or the desire to be constantly wiping smudges off your tablet, then SmudgeGuard&reg is the answer. It prevents smudges!
SmudgeGuard&reg is a partial glove that's made of nylon and spandex, so that it fits snug to your hand and glides easily over the tablet screen. It keeps your tablet PC smudge-free and becomes handy when you want to wipe dust and fingerprint smudges off (IF you don't have the cleaning solution or dry cloth nearby). It even reduces heat exposure to the side of your hand when your tablet begins to get hot (from over-heating). Tablet PC Users will find this "tablet PC glove" very useful!
Photo Courtesy of Ken Francisco
Do you have left-handed children? According to a survey from lefthandedchildren.org , one of the biggest problem left-handed children face is smudges. When writing from left to right, their hand will drag over the ink or graphite. This leads to a dirty looking hand and smudged work. To cope with this problem, lefthanded children may twist their hand and body to a certain angle, to avoid smudges. This may lead to poor body posture. Parents can help make their lives easier by supplying them with tools that are made specifically for lefties. The SmudgeGuard&reg glove, eliminates the smudges off the hand and it will give your child a more positive experience when writing in school.
Try SG1 for only $14.99 plus S&H!
OR
Try SG2 for only $16.99 to 17.99 plus S&H!
Click Here to Buy SmudgeGuard® Now!